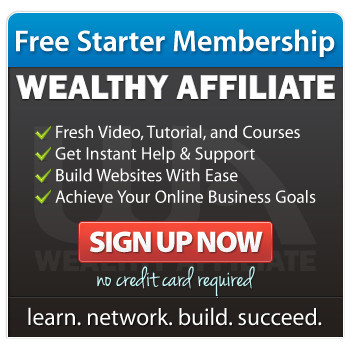 This is a review for Wealthy Affiliate, a digital platform for new and experienced affiliate marketers. As someone who has been an active member of Wealthy Affiliate for more than a year, I finally feel qualified enough to write a fact and experience-based review of the service.
This review will cover the entire Wealthy Affiliate service. First, it will cover what affiliate marketing is. It will then detail Wealthy Affiliate's offerings, my experience using the service, tips on how to succeed with it and it's pros and cons.
With so many companies prowling the internet claiming to teach customers how set up successful online businesses, it's important that people gain as much insight into any service-provider before committing their money to it. I wrote this review to provide an additional perspective to anyone looking to become a member of Wealthy Affiliate.
I'll start with what affiliate marketing is and how I discovered it.
What Is Affiliate Marketing?
Affiliate marketing is decentralized advertising. Similar to ride-sharing, where an individual signs up to act as a driver for a particular company; an affiliate marketer partners with a company to promote its products and/or services. Just like the driver, who earns a commission for each ride completed, the affiliate marketer makes a commission for each sale he or she makes. Neither have bosses to report to, entry or exit times nor quotas to meet.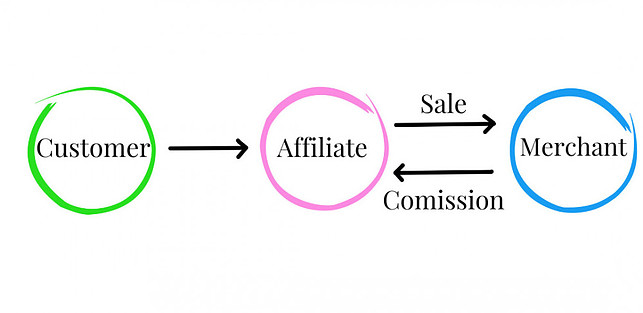 Affiliate marketing is not a pyramid scheme – this is a common misconception, one that I held when I began as an affiliate marketer. I address that concern next.
Affiliate Marketing Is Also Known As Network Marketing
Affiliate marketing operates as a network; each node in the network is either a company or a marketer. Marketers and companies are free to choose who they partner (connect) with. As a networked structure there is no "head" who profits whenever a new affiliate marketer partners with a company. It's free to join companies' affiliate programs.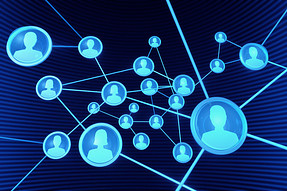 Why is it free? Because companies directly benefit from partnering with affiliate marketers. By making their affiliate programs free to join, companies gain access to a decentralized network of affiliate marketers who are ready to market the companies' products to their audiences. It's a perfect way to reach new markets – there is no way a company's marketing efforts could be as diverse and wide-ranging as the entire pool of affiliate marketers who choose to partner with them.
Through affiliate marketing, a company based in the UK can partner with a marketer in Mexico. Who do you think is better at marketing to Mexicans? The UK company's marketing division made up of Brits? Or a Mexican who was raised in Mexico and knows Mexican culture?
Which of the two is better prepared to connect (and sell) to a Mexican audience?
The answer is clear. Affiliate marketing is a win-win proposition. Companies' have their products promoted and the promoters earn commissions for each sale they make.
Most, if not all, major companies have affiliate programs. It's a straightforward business model with endless potential – there will always be new markets forming. There are over 4 billion people connected to the internet, and new people join ever day. New people come with new questions which the marketer can answer in his/her content and offer solutions (products/services) to.
A Few Examples Of Affiliate Marketing
I'll use myself as an example. I am an affiliate marketer of the Inspire3 Reprogram.ME Wealth Hypnosis. Some time ago, I applied to be an affiliate marketer for Inspire3, a company that makes science-based self-improvement products. I was accepted into their program and I now promote their wealth hypnosis on this website. I promote the product because I tried it and it worked for me. I believe other people could benefit from purchasing and using it.
For every person who visits my website and purchases the Reprogram.ME Wealth Hypnosis, I make a commission. The more people who visit my website and purchase the program from Inspire3, the more money I make.
It's that simple.
Ever watched a YouTube video which includes an ad for a product or service in the middle of it? The creator of that video is an affiliate partner of the company which makes the product/service. For every customer the video-maker sends to the company, he/she makes a commission. The more customers the video-maker sends, the more money he/she makes.
This means that the higher quality the video (or other content), the more people will watch it and the more sales will be made. Commissions can range from 2% at the low end to 75% at the high end. It all depends on the company you choose to partner with.
How Did I Discover Affiliate Marketing?
A year ago I had no idea what affiliate marketing was. I was stranded without a job during the government restrictions, with no hope of finding one. I was a new arrival to a foreign country. I was scouring the online world and reading books, looking for a method of making money online. I was open to anything! I had the time and energy to invest in building something, I just didn't know what or how to go about it.
Then, an author I follow on social media, Robert Kiyosaki, began posting content about a business model in which you could start a business without having a product or providing a service. My curiosity was peaked and I looked into it.
That was when I discovered affiliate marketing.
Mr. Kiyosaki was promoting an individual, Anik Singal. Mr. Singal claimed he could teach you to build an affiliate marketing empire making hundreds of thousands of dollars. All it took was paying for his course and working a few days.
I was skeptical at the outset; tales of fast riches online are always too good to be true and when I saw the price tag for the service as well as a couple of negative online reviews I became even more skeptical.
One review claimed that Mr. Singhal's entry program was solely designed to up-sell new customers; to convince them to part with more of their money before accessing the real meat of the course. Also, his marketing videos were classic snake oil salesman – very pushy, to the point of sounding desperate.
I passed on the offer, but I was intrigued by the business model. I asked myself if there was another way to learn the business.
I Had Previously Tried To Build An Online Business
I had tried making money online a few times before I encountered the affiliate marketing business model. Every time I crashed into a wall wherein I couldn't continue due to personal ignorance. I didn't know what I was doing.  As soon as I encountered an obstacle which I was unable to surmount, I gave up.
But the affiliate marketing business model had me piqued, so I kept on researching it. I knew I was capable of running a successful online business, I just needed the guidance on how to start.
That was when I encountered a review for Wealthy Affiliate. The author claimed that Wealthy Affiliate could teach you everything you needed to know to start a successful affiliate marketing business. I clicked a link for Wealthy Affiliate within the review and was directed to the Wealthy Affiliate web page (Hint: the author of the review was an affiliate marketer for Wealthy Affiliate).
That was when my journey with Wealthy Affiliate started, now over a year ago.
What Is Wealthy Affiliate?
Wealthy Affiliate is an online platform designed to teach its members how to set up and maintain an online business, specifically, an affiliate blog. An affiliate blog is a blog (surprise!) which monetizes its traffic through the promotion of affiliate partner's products.
The company was started in Canada in 2005 by Kyle and Carson with the goal of helping members succeed in online business. Wealthy Affiliate has been in business for 16 years and is widely regarded as an industry-leading service. A 4.9 (out of 5.0) star review on Trustpilot shows what customers think about the company, as of this writing.
The platform provides everything a member needs to start and grow an online affiliate marketing business. It teaches you how to purchase a domain name, it provides hosting for your web site(s) and it shows you how to create content (articles) which draw search traffic from internet search engines.
The website claims that the education and tools provided by Wealthy Affiliate empowers its members to "OWN Google rankings". The higher your content appears in search engine results the more traffic it gets.
What Wealthy Affiliate Offers
Wealthy Affiliate offers its members everything they need to start their own affiliate marketing business. Their offerings are the following:
A basic training course consisting of 50 modules designed to give you the foundations of online affiliate marketing – the course is given by Kyle, the co-founder of Wealthy Affiliate and a successful affiliate marketer.
Expert coaching for whenever you need help or advice.
Access to "JAAXY" – a keyword research tool which helps you write content that ranks high in search engine results.
Industry-leading website hosting.
Newly created expert-level classes designed to expand your knowledge on affiliate marketing beyond the basic training course.
A content-creation platform with a comprehensive spellcheck and immediate access to millions of public domain images you can include in your content.
And most importantly…
Access to a network of experienced, successful affiliate marketers who are ready to connect with you, answer your questions and encourage you when you're doubtful. Many of these marketers have created content hosted on the Wealthy Affiliate platform which you can read/watch to learn from their experience and supercharge your progress.
All of this is included in the Premium Membership for the price of 20 USD for your first month and 49 USD for each subsequent month. You can also pay yearly and save about 8 USD on each month.
Wealthy Affiliate also offers a Premium Plus Membership at 49 USD for the first month and 99 USD for each subsequent month. You can also pay for the membership yearly and save about 18 USD a month.
Up until now, the Premium Membership has been enough for my needs – I will consider switching to Premium Plus as my business needs grow.
My Experience With Wealthy Affiliate – The Start
The moment I arrived at the Wealthy Affiliate web page I felt something I hadn't felt before in my journey to start an online business – confidence. I was confident that I had found a service which was going to deliver on its promise to me – to teach me to build a successful online business.
So I dove right into the training course. It efficiently walked me through the following steps:
What affiliate marketing was and how it worked
How to select a niche market
How to choose and purchase a domain name
How to set up a website to ensure it was optimized for indexing by search engines
How to create quality content which drove traffic to the website
How to become an affiliate partner of a company
How to select products/services to promote in the website
How to effectively promote said products/services on the website
How to effectively promote the website's content on social media
How to do all of this legally
Before I joined Wealthy Affiliate I only knew what affiliate marketing was and how to purchase a domain name. That's it.
Can you see why I failed at setting up an online business before I encountered Wealthy Affiliate? There's a lot to know and if you fail at any one thing, success will be hard to come by. Before I joined Wealthy Affiliate I didn't know what I was doing and every time I hit an obstacle I was left to fend for myself. While it's possible to learn that way, the smart thing to do is to find someone to teach you how to do it.
Nothing can replace a teacher's influence on our success. And Wealthy Affiliate provided me with countless teachers from all over the world, right from the beginning.
My Experience With Wealthy Affiliate – A Year In
I'm going to set the record straight. Wealthy Affiliate is not a get-rich-quick scheme. I can't stress this enough. Wealthy Affiliate will give you the tools you need to succeed online, but the application of those tools will totally depend on you. If you get the tools and don't use them or give up, then you can't expect the Wealthy Affiliate program to work for you.
You and only you are responsible for your success online. You are fully accountable. Most people can't handle that responsibility – that's why they choose to work for someone else; it's a form of outsourcing their responsibility for success. If they fail, they can always blame it on their manager.
That is impossible when running your own business. It's success or failure depends entirely on you, the owner.
I'm not going to sugarcoat it; succeeding with Wealthy Affiliate is a challenge. That's how it is with everything worth having in life, despite what silver-tongued marketers hawking get-rich-quick schemes would claim.
People want instant solutions to their problems: magic powders to instantly lose weight, get-rich-quick schemes to solve their money issues, pills and surgeries to improve their health. It's all phoney baloney.
The truth is anything worth having in life is hard to get. Being healthy is hard, so is being sick; you get to choose your difficulty. Being rich is hard, so is being poor; again, you get to choose your difficulty. Educating ourselves is hard, so is remaining ignorant. Choose. Your. Difficulty.
Every weekday for six months after I became a member of Wealthy Affiliate, I wrote an article for my blog. On weekends I would do more work on the website. I dedicated tons of time to it.
And I only made my first sale after 8 months of being a member.
And What A Sale It Was
Have you ever reached an important milestone after months or years of hard work? I have – It happened with this very website when I made my first affiliate sale.
I had been working since 2017 towards having an online business which made money for me while I dedicated time to other activities. I tried and failed many times – until I tried and succeeded with Wealthy Affiliate.
The moment I realized I had made my first sale with my website I was catapulted into the clouds – it had worked! All of the work I put in; the experimenting, the learning, the researching, the writing, editing and promoting – it had all come together to manifest in that first sale.
I knew it was the first of many sales. And I was right – the sales have kept coming since, in greater number.
God blessed me with success – all of this has been thanks to God.
It was thanks to God that I discovered Wealthy Affiliate – the knowledge and community Wealthy Affiliate provides are second to none. I should know, I tried and failed so many times over many years and I only succeeded after becoming a member of Wealthy Affiliate.
There are tons of people and companies out in internetland pushing snake oil, they appeal to people's laziness and desire to be instantly gratified with little work. I was blessed to never fall prey to any of them, but I certainly encountered them.
Wealthy Affiliate is the real deal – not only do they provide the knowledge to empower your success, they also provide a community of new and experienced marketers for you to connect with.
That is priceless.
The Value Of Community
There were several times throughout the first six months I was a member of Wealthy Affiliate when I felt doubt and considered quitting. I doubted everything; whether I could succeed, the teachings of Wealthy Affiliate, and the quality of my writing. So many times when I checked the number of daily visitors to my website I was met with disillusionment – it was nonexistent or next to it.
It was in my moments of greatest doubt when I would reach out to the Wealthy Affiliate community. I would write a blog post describing my situation which I would post on the Wealthy Affiliate platform. Without fail, after a short time, responses to my blog post would come.
Some people would offer encouragement.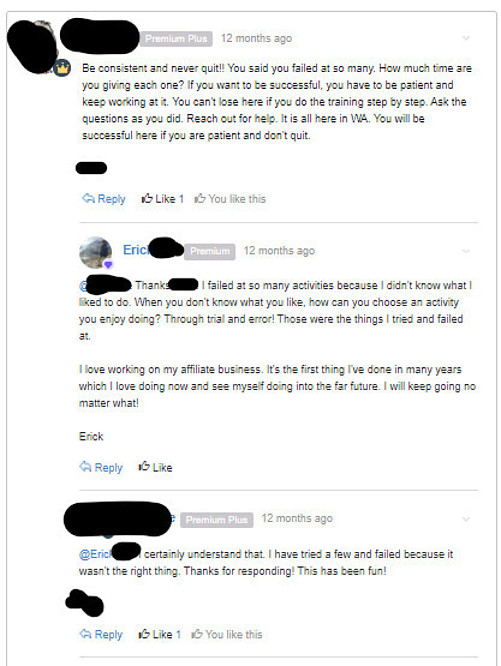 Others would ask questions and post links to articles written by successful affiliate marketers who accurately described the challenges on the road to success.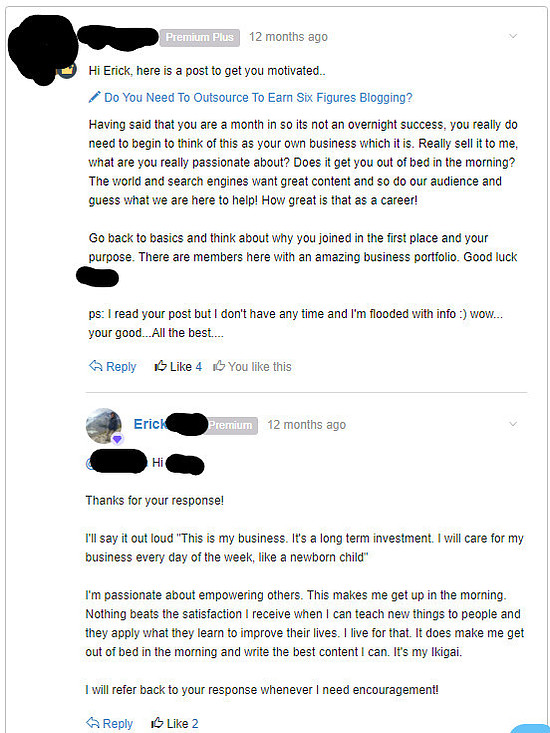 It was all I could to do smile at the outpouring of responses I received. The Wealthy Affiliate community is like no other. In no other place, online or offline, had I ever come across a group of people so ready to encourage and inform a beginner in business.
Humans are the most social of social animals. We only make it together. Our communities are what keep us healthy and strong – they give us the power to face adversity when it inevitably shows its face.
It was thanks to the Wealthy Affiliate community that I was able to continue trudging on even when I saw no progress. The community's individualized responses to my doubts convinced me that I wasn't alone, that others had been through a similar experience and I was on the right track. I just had to keep going.
And they were right.
Wealthy Affiliate Gives You The Tools To Success
It's up to you to use them. I've come across a few reviews online which criticize Wealthy Affiliate because it doesn't tell you how much work it's going to take to succeed. To those criticisms I have a simple answer: unearned wealth destroys people.
It's simple. When we don't earn our material riches, they destroy us. I'm reminded of Michael Carroll, a young man who worked as a garbage man in the UK. In 2002 he won a 15 million USD lottery prize and spent all the money on lavish parties, alcohol, drugs and prostitutes. He went broke and went back to working as a garbage man.
It's an extreme example of how unearned riches can destroy someone. Another example is NFL players; according to an estimate by Sports Illustrated, 80% of NFL players go broke within three years of retirement from the league.
Why does this happen? Because most NFL players come from poor families and are totally unprepared to manage the massive wealth they acquire during their careers. Pro athletes are overpaid. Had they earned that money gradually, through a combination of work, skill, intellect and creativity, players would be better prepared at successfully managing their wealth.
Having lots of money doesn't change people – it makes them more of who they were before they had the money. Money potentiates our character – our virtues and our faults. You need to be prepared to be wealthy, otherwise you can lose yourself.
It takes a combination of qualities to make good money: honesty, focus, discipline, intellect, creativity and diligence, just to name some. If you are going to succeed with Wealthy Affiliate, you are going to need all of those qualities.
Also, making money dishonestly is not a win. It's a loss. Life eventually gets even with cheaters.
What To Expect When You Join Wealthy Affiliate
You can expect several things:
You will be welcomed by a vibrant online community who wants you to succeed
You will begin learning about affiliate marketing and applying what you learn to build a traffic-drawing website.
You will be researching and writing – a lot.
The last point is one which requires special attention. They way an affiliate marketer makes sales is by creating quality content which informs people and helps them solve their problems. In order to get enough people to see and read/watch their content, affiliate marketers need to create, a lot.
Quality Research Leads To Quality Content
Yes, you will be doing a lot of research and subsequently writing on what you research. Your content has to be unique, otherwise search engines will determine that it's plagiarized and will penalize you. It also has to be accurate in order to be helpful, if people read your content and don't come away with more knowledge than they had before they read your content, you can't expect that your readers will be open to purchasing the solutions you offer.
To make sales you need to convey knowledge on the subject you're writing about – if you pretend to know without knowing and make stuff up people will catch on pretty quickly. It will then be impossible for you to succeed once you develop an online reputation of being a charlatan.
Naturally, doing all this research and writing takes time and energy. I've read that it can take people around a year of consistent work before they make their first sale. I've also read that some can find success after 3 months of work, but those are the exceptions. Personally, it took me 8 months before I made a sale.
What you can be sure of is that as you continue working and refining your craft, you will become capable of starting online businesses and making them profitable even faster thanks to your accumulated experience.
What you learn can't be taken away from you and you can always rely on your knowledge to make money – your mind is your best investment. Nurture your mind with learning, varied movement, proper nutrition, healthy relationships and time in nature and it will serve you well.
I will now give you a few tips for succeeding with Wealthy Affiliate which worked for me.
5 Tips On How To Succeed With Wealthy Affiliate
Every successful affiliate marketer has their "secret sauce" for success. You can take these tips as another perspective from someone who has been in the business for a little over the year. The list is not exhaustive by any means.
1 – Be Curious About Your Niche
Your niche is the subject your website specializes in. For example, Explode Your Wealth is in the personal optimization niche – it teaches people how to make wealthy choices to lead a wealthy life.
This is the most important tip because you are going to be doing a ton of research and writing on your niche. If you are genuinely curious on the subject matter you will be a self-motivated research and writing powerhouse.
Curiosity is a wonderful thing. In the book "Why? What Makes Us Curious" Mario Livio describes how curiosity activates regions in our brain related to both pleasure and discomfort.
Curiosity can be pleasurable, uncomfortable or even a mixture of both! It can give us pleasure to learn more about a subject we're curious about; while not knowing something (having a "gap" in our knowledge) can make us feel discomfort and desire to "close" the gap in our knowledge.
This push-and-pull between the pleasure and discomfort of curiosity makes it a more dynamic driver than passion. In my experience, passion is a poor motivator. We can't always be passionate about something, we eventually get tired.
But curiosity is a self-perpetuating driver – for every answer to our questions even more questions emerge which we can follow ad infinitum. It's impossible to know where curiosity will lead us, but if we follow it, we can be certain our journey will be full of learning.
You can then use what you learn to create your content.
Like with this website; I write about a lot of subjects, but all of these things are tied together by the string of my curiosity – I bring them together and tell a story to serve my readers.
Passion ain't got nothing on curiosity.
2 – Genuinely Seek To Serve Your Readers
This tip almost tied with the first one. But I believe that if you're following your curiosity, you are going to naturally want to communicate what you learn to others so they can become better informed. That's why this tip is second on my list.
Readers can tell when you are offering genuine answers to their questions and solutions to their problems. People are super wary about when they're being sold to – like I was when I was looking for someone to teach me about affiliate marketing. If you come across as nothing but a salesman in your writing, you will effectively push people away from the solutions you offer.
People like buying, but they detest being sold to. Ever had a store clerk approach you to sell you something? How did it make you feel?
You get it.
Instead, focus on answering questions and speaking form experience. Like if you were having a conversation. According to the book "To Sell Is Human" by Dan Pink, the internet has changed the balance of power between salesperson and customer.
Before the internet, salespeople had more information than the customer, so they could manipulate them into buying things they didn't need or which didn't perform as advertised.
Today, thanks to the internet, buyers are much better informed than they were before, so salespeople can't get away with lying as easily as they used to.
Today, the salesperson who succeeds is the honest and transparent one – the one who provides helpful information. The used car vendor Carfax is a good example of this. The company has the largest database of vehicle history in North America and it makes it available to any of their customers. It has an annual revenue of 500 million USD, according to Owler.com.
3 – Actually Use (And Believe In) The Products/Services You Are Promoting
This tip is near and dear to my heart. I've read about affiliate marketers who promote products they haven't used themselves. I could never do that. If I'm going to promote a product/service, I need to have personal experience using it. If I'm going to be offering a product/service as a solution to someone's problem, I can only do so if I've used it and benefited from using it.
When you believe in a product/service it's easy to sell it. And the only way you can genuinely believe in a product or service is if you've actually used it to solve your problems.
That's why I am only writing this review on Wealthy Affiliate after a year of using the service. I had a problem (how to make money online) and Wealthy Affiliate offered me a solution to my problem (teach me how to create a successful online business). I used the service for more than a year, it solved my problem, so now I can confidently offer it to you as a potential solution to your problem.
I stand by every product I promote. Since I've used them myself, I write from experience and that sells.
Following this tip might mean you wont promote as many products/services as other marketers, but you can be certain the quality of your content will be world-class. Nothing is more genuinely informative than having a satisfied (or unsatisfied) customer walk you through the qualities and pitfalls of a product they've used personally.
This is another reason the opportunities in affiliate marketing are limitless. Any problem you have, someone is selling a solution – you can solve your problem and then write about your experience honestly, share your experience with others, enrich their knowledge and make a profit doing so.
First give, to receive.
4 – Lower Your Expectations In The Short Run
When you join Wealthy Affiliate and start your own online business, you are going to be committing to running an actual business. Again, this ain't no get-rich-quick scheme or scam, this is an actual business you are going to build from the ground up.
Its success or failure will be entirely up to you. Nothing guarantees success, except maybe persistence. But quitting always guarantees failure.
I'm writing this so that you're aware of what you're signing up for once you join Wealthy Affiliate. You're signing up for the long haul; you're going to be running a business and are going to have to treat it like one if you are going to find success with it.
This means you are going to have to persist through the valley of uncertainty and despair that invariably comes with starting any project. Most websites are abandoned after 3 months. People who start them believe success will come overnight and are disappointed when it doesn't, so they quit.
Be the exception. When you join Wealthy Affiliate, commit to sticking with it until you see success. That can take even longer than a year. But if you're consistent in your research and writing it happens. You gotta persist.
Also, you don't have to go into a 6-month writing and publishing spree like I did to succeed. I know someone on Wealthy Affiliate who could only make time to write one article a month for a year. He started making sales shortly after a year. He just kept going at a pace he could maintain until it happened.
A key to success is holding a pace you can handle. That way you can keep persisting and not give up.
5 – Raise Your Expectations In The Long Run
There is no upper limit to the amount of money you can make through affiliate marketing. I've read of people on Wealthy Affiliate earning 100,000 USD a month by themselves. Of course, it took those people years of diligent work and experience to get there, but now that they've managed it, they have all the knowledge and experience they need to create any number of successful online businesses.
This brings up another point. Knowledge compounds. As you gain experience in affiliate marketing, you will become better at creating content that drives traffic and makes sales. You can then build on this knowledge and get even more returns and on and on. This is called "the snowball effect" – as a snowball rolls down a hill it gets bigger as more snow sticks to it; as it gets bigger it can pick up even more snow and so on.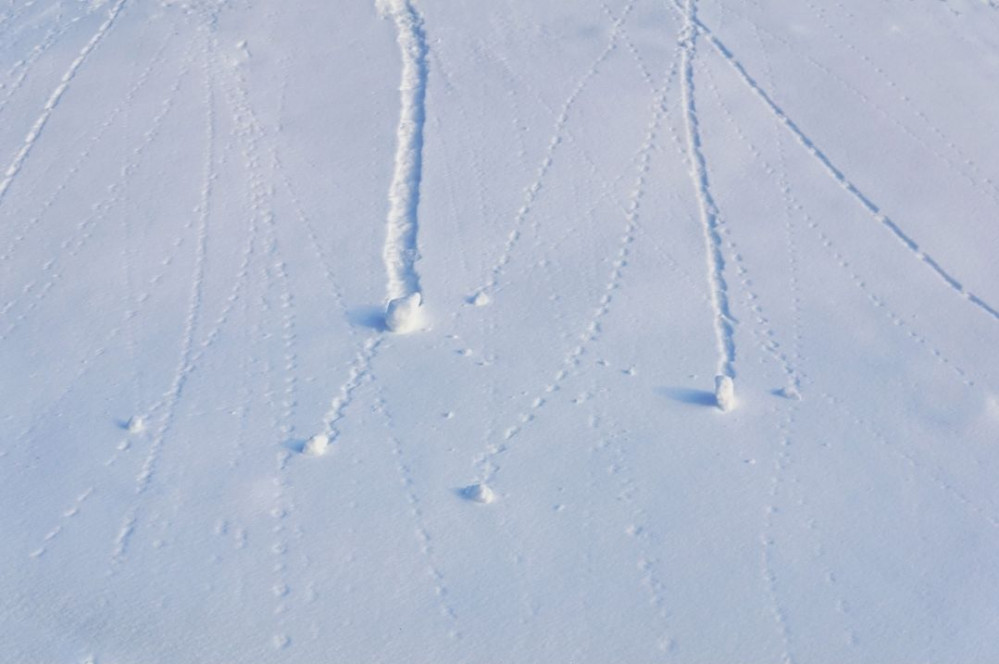 The thing about the snowball effect is that it's power is only fully available to entrepreneurs. Employees will create wealth for a company and the company will keep the lion's share of it. That's another reason why starting a business with Wealthy Affiliate is so neat – you can dedicate as much time and energy to it as you can or want and you keep what you make.
As long as you don't quit, you're going to be taking advantage of the snowball effect. You're going to be experimenting, learning and applying what you learn to build a business and you'll be able to transfer those skills to other areas of your life.
When it comes to succeeding online, as with everything else, limits are self-imposed. You just need to start rolling the snowball to begin compounding.
Final Rundown: Pros Of Joining Wealthy Affiliate
You immediately begin building an online business
You gain access to a network of experienced affiliate marketers who can guide you
You get access to industry-leading website hosting, JAXXY, a tool for keyword research and a public domain image database you can use
You become part of a community who wants to see you succeed
The business you build can be centered on something you are genuinely curious about
You can build your business during your free time, putting as much time and energy into it as you want – the more time/energy you invest, the more you get out of it.
You take advantage of the snowball effect
Final Rundown: Cons Of Joining Wealthy Affiliate
If you expect overnight success you are going to be disappointed
The content writer is buggy, sometimes images and lines of text glitch out
Some of the advanced classes are not as detailed and in-depth as those offered on other platforms
Final Thoughts On Joining Wealthy Affiliate
This review encompasses my experience with Wealthy Affiliate over the past year. If you are serious about starting an online business I highly recommend you become a member. From personal experience, there is simply no other service out there which matches the value provided by Wealthy Affiliate. I actually looked into or tried a couple of other services and was disappointed in them.
Wealthy Affiliate delivers for those who are willing to diligently use the tools the platform provides.
A year into my membership with Wealthy Affiliate I can already notice the snowball effect manifesting itself. Not only are my monthly sales steadily increasing, I'm also gaining real-world experience in running a business. To truly succeed online you need to be honest, focused, disciplined, creative and diligent – as you grow these qualities in yourself so does your business grow.
In this way, running a successful business has implications in your life outside of business. As you work on perfecting your business, you also work on perfecting yourself. Without ever becoming perfect, of course. The only perfect human being is Jesus Christ.
I wholly endorse Wealthy Affiliate. Get started on building your online business today! You'll be so grateful you did in a year.

To our wealth and success.